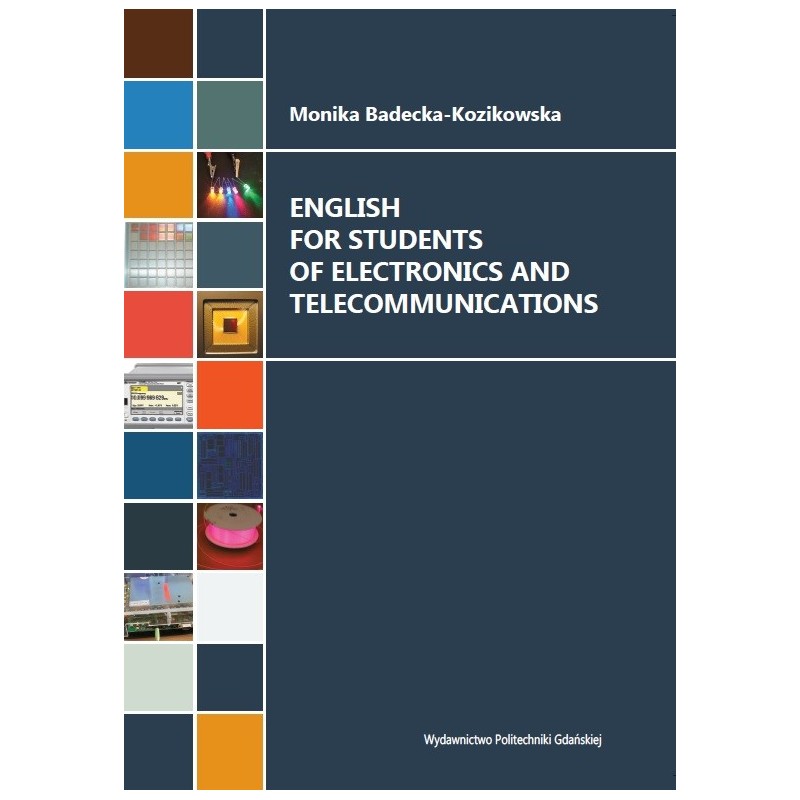  
Badecka-Kozikowska M., English for students of electronics and telecommunications
Słowa kluczowe: Electronic Measurement and Test Instruments, Computational Electromagnetcs, Audio Coding, Optoelectronics, From Telephony to Next Generation Network, Modern Navigation Systems, Design of Advanced Integrated Circuits, Propagation of Radio Waves, Software Defined Radio, Automated Design and Optimization of Microwave Components for Wireless Communication Systems
Podręcznik English for Students of Electronics and Telecommunications został opracowany na podstawie tekstów w języku angielskim przygotowanych przez nauczycieli akademickich Politechniki Gdańskiej. Książka przeznaczona jest głównie dla studentów uczelni technicznych na kierunkach elektroniki, telekomunikacji i informatyki, uczęszczających na lektorat języka angielskiego o profilu specjalistycznym technicznym na poziomach B2, C1 i C2.

Dziesięć rozdziałów podręcznika (Student's Book) obejmuje zakres słownictwa, funkcji językowych i gramatyki w ramach wybranych dziedzin elektroniki i telekomunikacji, w tym elektromagnetyki obliczeniowej, projektowania i optymalizacji komponentów mikrofalowych dla systemów komunikacyjnych, optoelektroniki, elektronicznych urządzeń pomiarowych, systemu stratnej kompresji dźwięku, nowoczesnych systemów nawigacyjnych, projektowania zaawansowanych układów scalonych, propagacji fal radiowych, radia definiowanego programowo oraz Sieci Następnej Generacji.

Każdy rozdział wprowadza podstawowe dla danej dziedziny pojęcia, ćwiczenia słownikowe, teksty na tematy specjalistyczne zaopatrzone w ćwiczenia rozwijające sprawności czytania i słuchania ze zrozumieniem, tzw. academic skills, zdjęcia, ilustracje i schematy autorstwa pracowników uczelni, diagramy do uzupełniania i opisu, krzyżówki. Ponadto podręcznik wzbogacony jest o ćwiczenia na wymowę w wykonaniu filologa-fonologa dr. hab. Tomasza Ciszewskiego, Prof. UG z Instytutu Anglistyki i Amerykanistyki Uniwersytetu Gdańskiego, a także fragmenty filmów video opracowane językowo. Poradnik lektora (Teacher's Book) oraz nagrania audio i video dostępne są dla lektorów na stronie Centrum Języków Obcych Politechniki Gdańskiej. Pozycja zaopatrzona jest również w obszerne glosariusze zawierające specjalistyczną terminologię dotyczącą poszczególnych rozdziałów.

***

English for Students of Electronics and Telecommunications is a ten chapter ESP textbook for tertiary English language education of students at language levels B2, C1 and C2 – at higher schools of technology, specifically at departments of electronics, telecommunications and informatics. The Student's Book comprises the introduction to basic notions of ten selected sub-disciplines of electronics and telecommunications, specialist texts, exercises in vocabulary use, reading and listening comprehension tasks, a wide variety of enjoyable pronunciation drills recorded by Tomasz Ciszewski from the Institute of English and American Studies, University of Gdańsk, activities at developing academic skills, communication activities and those related to video extracts accessible online from the Language Centre's website, where the teacher will also find keys and instructions in the online Teacher's Book. The ten chapters deal with Computational Electromagnetics, Automated Design and Optimization of Microwave Components for Wireless Communication Systems, Optoelectronics, Electronic Measurement and Test Instruments, Audio Coding, Modern Navigation Systems, Design of Advanced Integrated Circuits, Propagation of Radio Waves, Software Defined Radio and Next Generation Network. The book also provides glossaries of specialist terminology for each of the chapters.
Rok wydania

2015

Nr wydania

1

Liczba stron

130

ISBN

978-83-7348-635-5

Format

A4